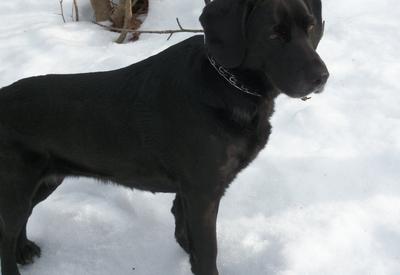 I believe that God created the Heavens and the Earth of which all our furry friends are a part.
At 6 months of age we were blessed to take you into our care. It was a rocky start, but such a beautiful companion you turned out to be over the next 10 years.
You brought us love, comfort, and devotion. Up until your last day you showed such strength and courage as unbeknownst to us a cancer grew in your belly. You walked almost 2 miles the day before you departed! Walking and being with the family were the 2 greatest joys in your life.
I now walk our walk alone to honor your memory. I couldn't have been any more proud of you over the last 10 years.
I can't begin to thank you enough or express the love we've shared over time. I am so glad I told you daily how much I loved you and what a beautiful girl you were.
I will miss touching foreheads as our eyes focused on each other's. Never again will I be able to rub your soft furry head or have you bury your head into my knees as I rubbed your head and neck.
It would have been selfish to have you endure the pain and suffering any longer, so the decision was made to hand the leash over to the Lord.
Your job on earth is done. Thank you for protecting us and our home. It's time to run with the angels, my sweet baby girl. The heavens are your new backyard.
Love, and miss you, forever in our hearts.
Dad, Michael, Andrew, Karen and your furry friend Link